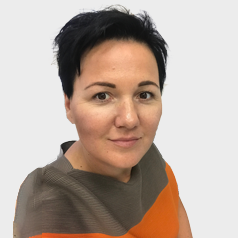 Alona Volkov
Head of Project Management
alona.volkov@aktglobal.com
Alona leads the project management team of SAP SuccessFactors at AKT since 2019. She spearheads some of the company's largest and most complicated projects.
Alona has a proven ability to drive cross-functional efforts to deliver new capabilities that require a combination of business strategy, process design, technology, change management and end-to-end execution. She has successfully planned and deployed HRIT strategies on local, regional and global levels. She has 20+ years of experience working in different industries to lead large scale global IS/IT programs.
Prior to AKT and for seven years, Alona was a business lead for the core pillar of Teva's HR Transformation to globalize core HR processes across 60 countries along with new SuccessFactors Employee Central cloud-based solution roll-out worldwide for 57K+ employees. As part of this role, Alona has designed and implemented end to end global business hire to retire processes and Employee Central platform aligned with global HR processes.
In addition, Alona was also a global business lead for HR Shared Services Transition strategy delivering HR services migration roadmap to the Global HR Shared Services organization. She lead the HR journey to find cost effective delivering model including HR Business Process Outsource/Recruitment Process Outsource and played a key role in the change management and setting of the future HR services delivery model globally.
Alona has a profound record in managing complex global programs that combine business process design along with technology.
.