Enrich Learning Experiences with Centrical
Enhance SAP SuccessFactors Learning and SuccessFactors Work Zone with fully embedded gamification, personalized performance-driven microlearning, and an engaging behavioral hub for digital transformation.
+90%
Learning completion rates
28%
Faster onboarding
2.8x
Higher knowledge retention
+12%
Average employee productivity improvement
Create a Learning Culture to Drive Better Business Results
Make learning exciting with a gamification module for select SAP solutions. Engage learners with points, badges, and leaderboards for performance, participation, and knowledge sharing. Boost learning completion with real-time feedback, game levels, color-coded KPIs, and personalized goals.
Centrical seamlessly integrates with SAP SuccessFactors Learning, SAP SuccessFactors Work Zone, and external platforms for tracking employee performance metrics. Centrical's solutions bridge
the employee experience gap by motivating employees to aspire and achieve new performance levels, explore new challenges, and learn to excel daily.
Centrical turns professional development into passion and successes into celebrations for thousands of employees daily, across the globe in the word's leading organizations
Key Benefits:
Keep learners engaged with advanced gamification: Make learning fun with competitions, quest narratives, and rewards that offer daily reasons to get excited.
Drive business impact through learning: Deliver learning in the flow of work and personalize learning to address individual knowledge gaps.
Optimize for knowledge retention: Trigger AI-optimized, automated microlearning activities that ensure learning is retained and applied.
Empower employees to perform at their best: Provide closed-loop coaching using evaluation forms, actionable coaching tips, and personalized real-time performance visibility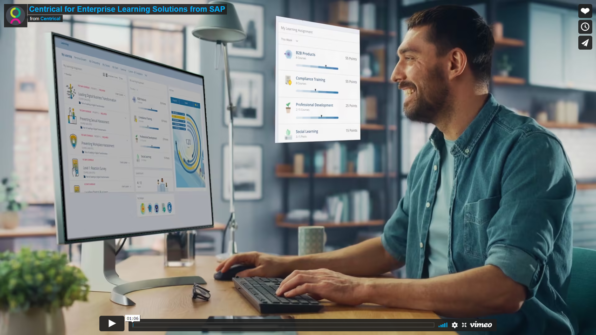 Drive the behaviors and knowledge that improve business performance with Centrical!
Watch Demo
Engage Learners with Advanced Gamification
Drive learning across various training use cases – including onboarding, compliance training, and upskilling and reskilling programs – with personalized learning KPIs, challenges, points, badges, and virtual rewards.
Optimize Learning for Knowledge Retention
Boost learning retention and application with personalized, AI-driven microlearning delivered in the moment of need. Microlearning content can take many forms (i.e., text/images, videos, simulations, quizzes) and is triggered to learners in short bursts, making learning more memorable and impactful.
Promote Social Learning & Collaboration
With peer-to-peer challenges, badges, kudos, and dynamic leaderboards you can create a learning culture where employees want to learn, enjoy learning, and take an active role in their learning journey.