How Digital Adoption Platforms can speed up your adoption and improve user experience
Do you want to know everything about digital adoption platforms (DAP)?
 You're at the right place! Let's discover together its challenges and in what can it benefit you in 4 steps.
 1. What is a digital adoption platform?
A digital adoption platform is a digitized user support tool that is directly integrated into company software such as SAP SUCCESSFACTORS.
By adding this type of assistant to your SAP SuccessFactors HXM suite, you will be able to communicate with your users and train them in processes and data entry directly in the interface, thanks to step-by-step guides and contextual helps. This will help them become proficient in their tools in a simple, fast way, and without having to go through your Help Desk.
This assistant is tailor-made: it offers real-time support, adapted to the language, profile, and screen of each user, in the right place at the right time. This way, users can find answers tailored to their questions, round the clock, in just a few clicks, working on their own.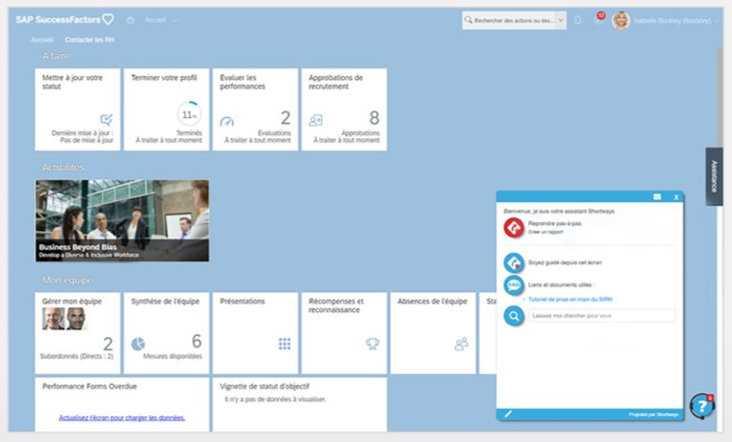 2. What are the challenges of a Digital Adoption Platform?
A digital adoption platform helps address many of the critical business issues that managers are trying to solve.
Here are the most common use cases:
Successfully deploy a new application:
Whenever an organization decides to deploy a new business application, many obstacles emerge that change managers must overcome in order to ensure sustainable adoption of the changes. A digital adoption platform aims to digitize the training and the learning process. Then, by means of contextual tool tips and easy-to-use step-by-step guides, to accelerate the learning process for the user, who feels reassured by this support adapted to his/her/their pace.
Harmonize processes and make data more reliable:
On average, an employee uses between 10 and 15 applications, of which several in the course of one day. This can lead to confusion, oversights, and data-entry errors. It can jeopardize the effectiveness of the data on which contact, analysis, assessments and strategic decisions are based. A digital adoption platform helps to explain and standardize processes and data inputting, in order to make the data qualitative, and to avoid long and costly data reprocessing, which will have to be maintained permanently if the basic problem is not solved.
Discontinue user manuals:
In order to keep up with the evolution of training, companies can opt for virtual user assistance, rather than having recourse to long, tepid face-to-face training, moreover not always possible (Covid, etc.). In the same way, companies are looking to digitize out-of-date user manuals. These manuals are too long and demotivating to read for users, who then misuse their applications and enter wrong data, or do not use them to their full potential. A digital adoption platform can be seen as a solution for user-manual digitization and training directly integrated into then software.
Accelerate the adoption of new software:
A software adoption challenge arises when a technological change has not been embraced by the users to the extent initially hoped for. There can be several reasons for lackluster user take-up:
the technology itself: it seems too complicated, or users are unclear as to its potential benefits;
poor communication with users, or even psychological reluctance towards this change: employees are forced to change their habits, and this seems long and restrictive, whereas the current situation was comfortable.
high employee turnover within the company.
These different reasons can also result in a lack of use or misuse of the enterprise software.
A digital adoption platform can be beneficial, and not only during first use but whenever users need to brush up on their skills on essential applications that they only use from time to time (e.g., during annual performance reviews). Also, to communicate quickly and simply with employees to support this change.
Adapt to the structure of the organization:
If users are spread over several sites (in the same country or internationally) or if employee turnover is high, organizational problems inherent to the use of its business applications emerge. Each employee, at any time and regardless of location, needs to be proficient in the software s/he is using, one aspect of which means finding answers to any questions s/he might have. A digital adoption platform allows you to conduct a harmonized support and communication policy within your remote software, adapted to the needs of each person, in any language.
3. What are the features of a Digital Adoption Platform?
Once the digital adoption platform has been adopted by a company, selected users are appointed as Administrators accredited to create support content in real time, customizable according to the screen, the profile, or the language of users, modifiable at will. This support content takes the form of 6 features that we look at below:
Step-by-step guides: this feature guides and trains users, step-by-step, in carrying out a task.
Notification bubbles: informs employees, directly in their business software, of noteworthy events, e.g., version changes, start of annual interview campaigns, reform of compensation process, etc.
Assistance requests: if the user has not found an answer through the other features, he/she/they can submit via the software a request for assistance
Search bar: users can enter one or more keywords and to directly display the corresponding results
FAQ: recommended to provide quick access to useful business procedures and files in the right place in the application
Contextual help: allows you to give your users access in one click to training content, e.g., definitions of value lists
Dashboard statistics: through dashboards and statistics, you can pilot and measure the use of the digital adoption platform, e.g., most clicked FAQ links, news marked as read, most consulted contextual helpers and assistants, most searched steps, etc.
Content creation: administrators of your digital adoption platform can create and manage the content available through these features and do so on their own directly from the application, on all screens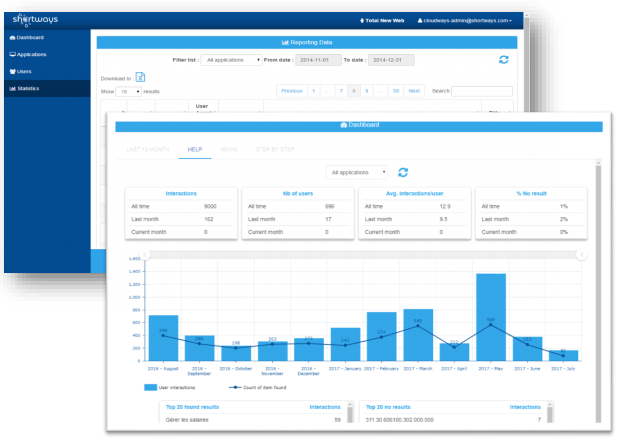 4. How is a digital adoption platform set up?
But concretely… how will this assistant be deployed within my software?
Once again, no worries. The DAP integrators clearly understand that whilst a DAP may be necessary and a good idea, any attempt to make this contingent upon running interminably complicated processes would be counterproductive.
Technically speaking, to take the example of our AKT Digital Assistant powered by Shortways assistant, it is a simple native integration in a software application.
After a technical diagnostic meeting to deploy the solution best suited to your needs, a JavaScript component is added into your application… in other words, no deployment of extensions or additional add-ons.
On average, AKT Digital Assistant powered by Shortways projects take 3 months to go into production, but one customer managed this in just 10 days!
Then, after a half-day training, you are ready to take control of the management studio to start creating your own tailored content, with our advice and support if needed.
In any case, you know we will be there by your side. Our support team goes into Project mode and evolves with your needs. Our reactivity and ability to deliver support have been the vectors of the satisfaction and the trust that our customers appreciate… their testimonials speak for themselves.
In other words, the AKT Digital Assistant powered by Shortways solution is not an intrusive solution. We don't need to access or store your user database for the assistant to be able to adapt the displays according to profiles, languages, screens, and software, thus protecting your data and respecting the GDPR.
This is also the case in the reporting/statistics section available for administrators: by default, we suggest that you identify your users by a random number, rather than by their email address, in order to anonymize their actions without impacting on the effectiveness of the analysis of the use of the assistant.
To learn more about AKT Digital Assistant powered by Shortways – CLICK HERE
Contact us today to get started in speeding up your SAP SuccessFactors HXM adoption and improve your user experience.