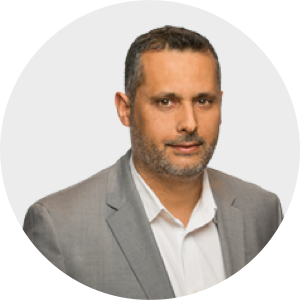 Yoav Ventura
Co-Founder and Managing Partner, AKT Group
yoav.ventura@aktglobal.com
In 1999, Yoav founded the company that later became AKT, seeking to pioneer a fundamentally different approach to human capital management and workforce performance consulting.
Today, as Co-Founder and Partner at AKT, Yoav leads the firm's SAP Cloud People Solutions business strategy and global delivery. Yoav's in-depth understanding of and extensive experience in human experience management and workforce performance, coupled with a clear technological perspective, has helped AKT to quickly achieve SAP gold partner recognition as well as EMEA-wide accolades for successful SAP SuccessFactors implementations. He has secured some of AKT's highest profile People Cloud customers, managing their multi-module, digital people experience transformational programs. And, it is Yoav's continuous focus that the firm is one of the largest SAP Cloud People Solutions consultancies in the EMEA region.
In addition to leading AKT's SAP Cloud People business, he is also a member of TechnoPlus Board of Directors, an investment company traded on the Tel-Aviv Stock Exchange, and a Board Member of the University of the People in Israel, the first online, tuition-free university with open access globally.
Yoav graduated from Tel Aviv University earning his degrees in industrial engineering and management.