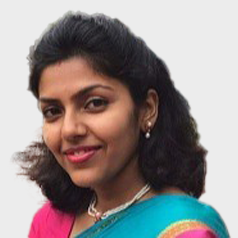 Pooja Das Saha
HR and Talent Acquisition Specialist
pooja.saha@aktglobal.com
Pooja Das Saha is the HR & Talent Acquisition Specialist within AKT's People Cloud business. She has over 11 years of experience in human resource functions in leading Indian infrastructure companies and a multinational manufacturing leader.
In her role, she supports the global Talent Acquisition, L&D, Employee Experience and Hire to Retire processes for the firm.
Pooja started her career at Ambuja Neotia (an Indian real estate and hospitality group with 1400 employee), as a management trainee, and it allowed her to gain experience in recruitment, onboarding, employee engagement and employee life cycle.
This led her to a role at Shristi Infrastructure, and eventually at Tega Industries Limited (a global manufacturer of mineral beneficiation equipments) wherein she has shouldered responsibilities of talent acquisition and performance management. She gained knowledge in global policies and  talent management which will be invaluable in her new role at AKT.
Pooja speaks English and other Indian languages like Hindi and Bengali.