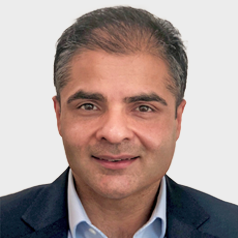 Imran Mannan
SAP SuccessFactors Programme Manager
imran.mannan@aktglobal.com
Imran has over 20 years of International experience in advisory, implementation, management and the deployment of a variety of business and SaaS Cloud applications including SAP, Oracle, SUN & Maximo and others. He has extensive experience across a variety of industries including, Financial Services, Consulting, Oil & Gas and Defence.
He's an experienced and passionate program manager with hands-on experience of successfully delivering large-scale, complex client programs, spanning across multi-disciplinary teams (including Global Matrix Organizations). A natural leader with a proven track record in managing third-party vendors delivering large, multi-year business/digital transformation projects from start to finish.
He operates at C-level, with strong interpersonal and leadership skills bridging the gap between IT and the Business stakeholder groups (including CXO level) during the entire software selection, business case, implementation process and transition to the support project phases. His strong Project Management expertise spans a variety of different methodologies (including ACTIVATE, Agile or Waterfall) with proven experience of integrated planning techniques and of PMI, Prince2, SSADM approaches.