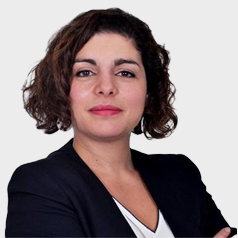 Inès Gourio
Head of CLAP Labs, AKT CLAP France
ines.gourio@aktclap.com
As co-founder of AKT CLAP, Ines has extensive experience as an SAP SuccessFactors implementation Expert Consultant with several full implementation projects for French customers over these past seven years. She is recognized as an SAP SuccessFactors Expert and has been given the responsibility of the Research & Development and Learning Management System (LMS) teams in France. In addition, she is the President of CLAP Labs, she steers the team to focus on custom app development for French customers.
Innovation is her passion – and this is evidenced that she is also Product Owner of ClaPlan, a custom module that is being developed on top of the LMS system. If full flexibility and the latest innovation is your goal, then Ines and her team can most certainly support you in this regard.
She is fluent in Arabic, English and French.