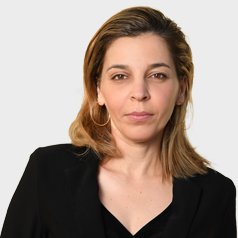 Helli Nahum
Program Director
helli.nahum@aktglobal.com
Helli is an experienced senior management consultant with extensive experience in leading successful global and local HR implementations. She has experience leading HR solutions like SuccessFactors, Workday and SAP HCM implementations from Design phase to BAU/AMS support for various industries such as Retail, High Tech, Chemicals, Banking, and Aviation.
Helli has participated in driving Cloud-based HCM strategies alongside HR stakeholders and C-level executives, finding and implementing the best-fit solution. Her strength lies in applying  strong business skills and methodologies to interpret HR data, design business processes and procedures to deliver a holistic solution.
While working for IBM in the last twenty years, Helli built an outstanding track record in both delivery and project executions in multiple HR solutions. Her last assignment before joining AKT was to manage an RPA (Robotic Processing Automation) project for a global customer in order to automate routine HR tasks, while using SAP and SuccessFactors as platforms.
She also has experience as recruiter which means that she brings deep business knowledge and understanding of the talent acquisition process and candidate experience.
She holds SuccessFactors certifications in Employee Central, Recruiting, Succession, LMS and Workforce Analytics.